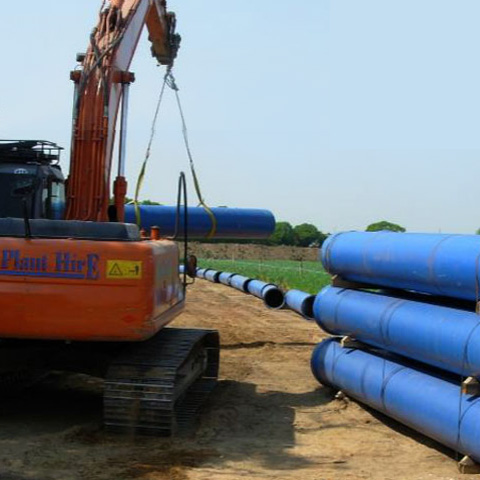 Back
Ductile Iron Fittings - Tooth Gasket Restrained Joints
Features
Can be used on any push-on joint socket and spigot fitting.
Needs specially manufactured steel teeth inserted gasket in place of a normal gasket.
The gasket has to be set in the socket groove like any other gasket.
Like any other fitting, the steel teeth allow the spigot to be pushed into the socket.
Once the spigot is fully inserted, the teeth bite into the spigot and restrict it from coming out.
This specially designed gasket performs the dual role of water sealing and restraining.
After assembly, it is recommended to pull back the fitting a little bit, to ensure engagement of teeth.
DN (mm)
Deflection Angle (Degree)
Class K9 or equivalent
PFA (bar)
PMA (bar)
PEA (bar)
80
3
27
32
37
100
3
27
32
37
125
3
20
25
30
150
3
20
25
30
200
3
20
25
30
250
3
20
25
30
300
3
20
25
30
350
3
11
16
21
400
3
11
16
21
450
3
11
16
21
500
3
11
16
21
600
3
11
16
21